We're making a list, we're checking it twice, we're gonna find out who's naughty or nice!
So if you think you have been good this year, and we mean really good!
Come along to Naas Retail Park, write a letter to Santa, send it through the official North Pole Post Office in Carpet Right store and spread Christmas cheer.
Parents!
Please be aware, in receiving Santa Claus´ response during the holidays the elves will need your help.
Once your kids write the letter to Santa make sure to insert your home address on the back of the letter. Make sure to do so with care and in CAPITALS letters, so the answer arrives safely and in time from the North Pole.
And remember the true spirit of Christmas is love!
The elves will be watching, so be good for goodness sake!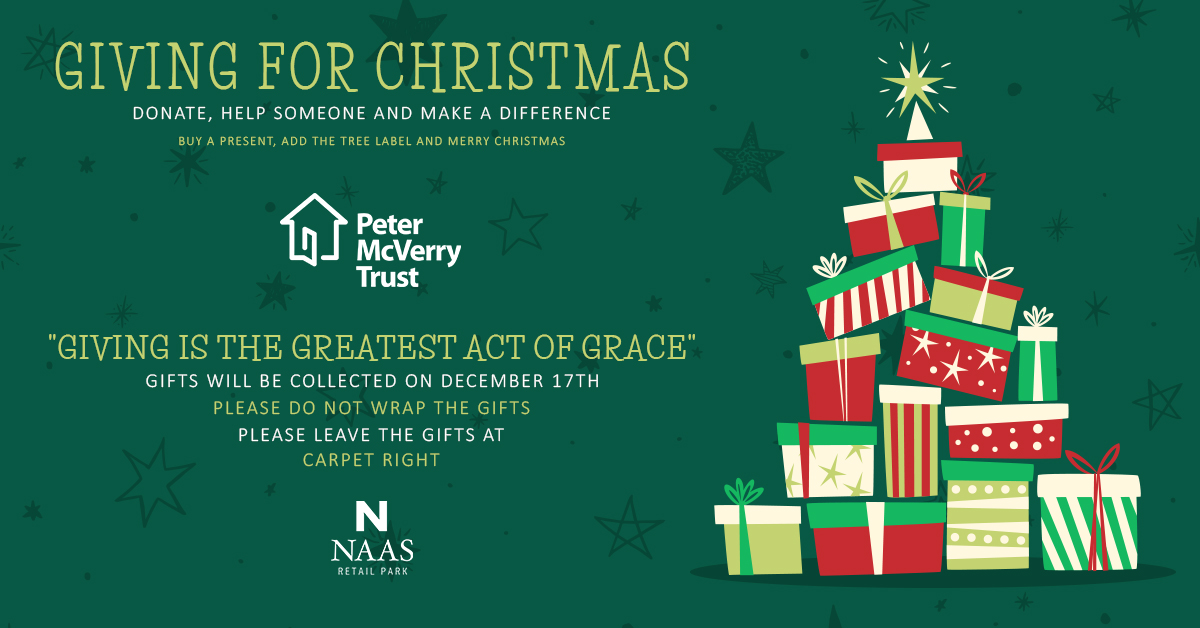 Donate, help someone and make a difference.
This Christmas, apart from the letter to Santa Station, Naas Retail Park will be partnering with Peter McVerry Trust in the Giving for Christmas campaign, so more people can get a present on Christmas eve.
Visit us in our Retail Park if you wish to make a donation, all you have to do to participate is collect a sticker from one of the tills in the stores at the Retail Park, buy a present, add the tree label and leave it in Carpet Right store.
All the gifts will be collected on December 17th.
Thank you for helping us in bringing Christmas magic to more people this year! Remember "Giving is the greatest act of grace".
P.S. Please don't forget to stick the sticker on the presents and do not wrap the gifts.
Suggested items:
Toys, pyjamas, dressing gowns, hoodies, slippers, books, sweets, footballs, hair bands & accessories, face masks, makeup, personal care, bath sets, thermal clothing, underwear, headphones, baby clothes, blankets, grow bags, Christmas treats, hats, umbrellas, pictures frames, DVDs, raincoats, households items, etc.
We cannot accept:
Items containing alcohol such as mouthwash, Christmas pudding, etc.
Items containing glue. E.g., Arts & crafts sets, etc.
Items containing blades. E.g., Men's razors, shaving sets, etc.
Perishable food, wrapped presents or aerosols.
[/av_textblock]